Returning to the town she has called home since elementary school, Gretna native Casey Birdsall joined Blair Construction, Inc.'s team as an assistant project coordinator in January of 2023.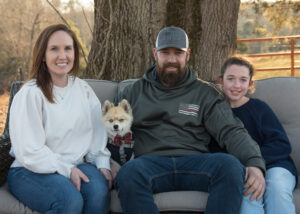 A Gretna High School and Liberty University graduate, Birdsall assists with both customer-facing and business-related elements of Blair Construction projects. She helps manage schedules and contracts; assists with account intake, setup, and billing; works with subcontractors; reviews documents, including shop drawings, submittals, and approvals; and assists with material procurement and delivery. Birdsall also monitors safety on job sites and represents Blair at coordination and architect meetings. 
"We are excited to add Casey to the Blair family," said Blair Construction President Tim Clark. "She is a very organized and versatile professional, and her inherent work ethic and initiative have allowed her to take to her new role quickly. As someone who grew up in Gretna, she also shares Blair's value of creating positive community impact, and that shows itself in the quality of her work."
Birdsall brings extensive project management and customer service experience to her position at Blair, which follows nearly a decade as office manager at Creative Edge Design, Inc. in neighboring Altavista, Virginia. At Creative Edge, she managed projects from start to finish alongside nearly every aspect of the business, from customer intake to graphic design, scheduling, installation, invoice creation and distribution, tax preparation, and accounting. She worked with a wealth of local, regional, and national companies, including Centra Medical Group, Devil's Backbone Brewing, Domino's Pizza, Haley Auto Mall, Old Dominion University, and University of Virginia Health.
Birdsall earned her bachelor's degree in business administration and management from Liberty University in 2011.
"I am a longtime resident of Southern Virginia, and working at Blair Construction gives me the opportunity to help posture our clients to make our communities stronger," Birdsall said. "The family atmosphere at Blair ensures that all members receive the resources, training, and support to be our best every day."