After over two years of intense planning and hard work, Blair Construction is proud to announce the completion of the Center for Manufacturing Advancement (CMA). Collaborating with the Institute for Advanced Learning and Research (IALR), Blair has meticulously constructed a state-of-the-art building on the IALR campus in Danville, Virginia, that will serve the manufacturing industry for years to come. A Blair project from start to finish, the seamless completion of the CMA serves as a testament to this locally minded firm's dedication to advanced manufacturing.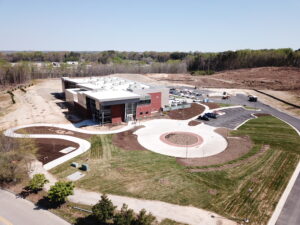 A nearly $30 million investment from IALR, the Commonwealth of Virginia, and the Danville Regional Foundation, the CMA's 51,250-square-foot building serves as a fully operational training and manufacturing center for lease to Southern Virginia companies and those looking to expand into the region. The CMA's rapid-launch facilities enable businesses to continue operations rather than ceasing all work while their own facility is under construction. Additionally, businesses will be able to start new operations. The ISO-certified inspection lab will examine and validate the product quality of all equipment that passes through its doors. By utilizing this in-house service at the CMA, companies can bypass additional red tape and cut start-up time. 
Currently, the CMA hosts the U.S. Navy's Additive Manufacturing Center of Excellence (AM CoE). As the first tenant of the brand-new CMA, the Navy has shown full support for the IALR's newest venture by leasing all three bays to conduct additive manufacturing training while awaiting completion of two of its own buildings. 
In October 2022 a ribbon-cutting ceremony was held during the second annual Accelerated Training in Defense Manufacturing (ATDM) Summit. Those in attendance included Blair Construction President Tim Clark; Virginia Governor Glenn Youngkin; the Honorable Carlos Del Toro, secretary of the Navy; as well as many other high-ranking officials from the Navy and across the Commonwealth.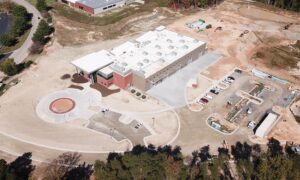 "This partnership will diversify, transform, and grow Southern Virginia's production capability for the submarine industrial base as well, marking another major win for Virginia's defense economy and labor market," said Governor Glenn Youngkin at the ribbon-cutting ceremony.
A source of pride for Blair, the construction of the CMA is also set to have a positive impact on the Danville community. Additionally, the CMA marks advancement for the manufacturing industry as a whole. By encouraging collaboration among industry competitors, the IALR is breaking down barriers, thus changing the game for manufacturing companies. 
"The superior craftsmanship and exceptional quality of Blair Construction was once again proven with its completion of our new Center for Manufacturing Advancement," said the IALR President Telly Tucker. "The building's innovative design was executed beautifully and with Blair's trademark professionalism." 
Welcoming companies from across the Commonwealth, the IALR demonstrates its dedication to creating a mutually beneficial space for industry partners.