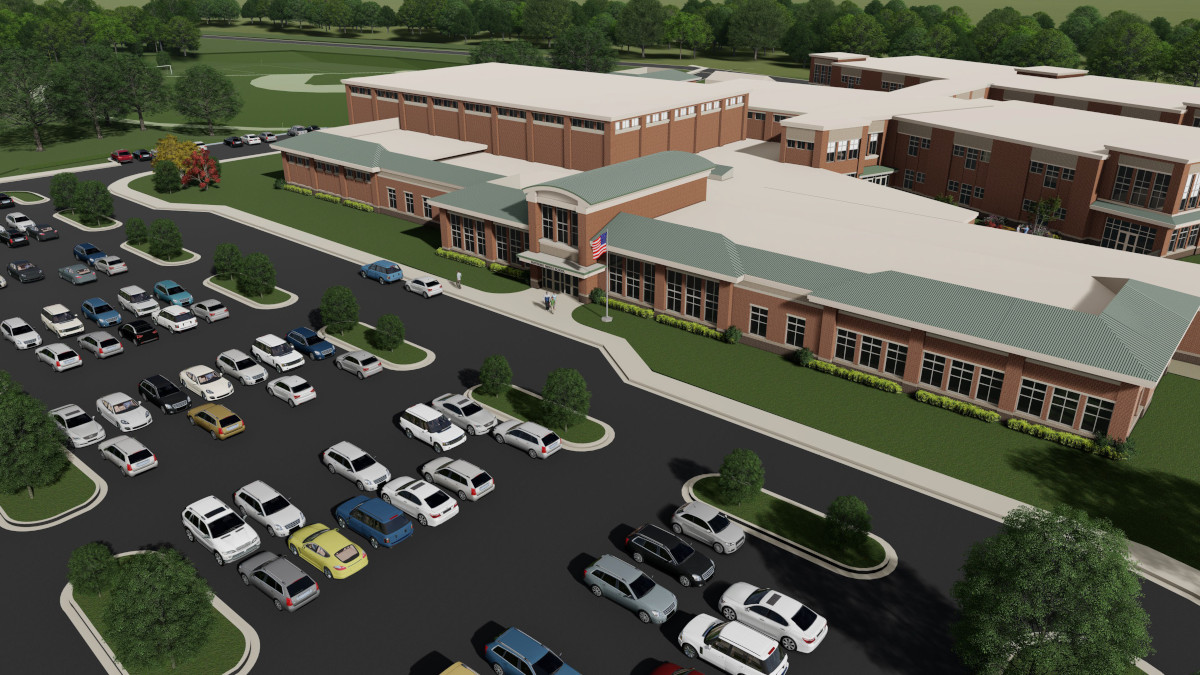 Blair Construction today broke ground on the new Rustburg Middle School building. The new 136,500-square-foot structure can hold 750 students and will cost about $41.3 million. Plans designed with future expansion in mind include an auxiliary gym, wider halls and other utilities to make expansion easier.
"Blair Construction is honored to continue its relationship with Campbell County and Campbell County Public Schools," said President of Blair Construction Timothy Clark. "Being a part of growth in the educational sector of our region is why we do what we do. We are excited to build new infrastructure for education for the next 100 years and counting."
The plan for the new school, presented by Ben Motley, architect and senior partner at RRMM Architects that is partnering with Blair Construction on the project, includes a classic brick exterior to meet the tone of the Village of Rustburg, vaulted windows and communal learning spaces.
"Daylighting strategies have been incorporated into the design to provide exceptional learning spaces for students and staff while saving energy for years to come," says Motley. "Collaborative spaces and separated grade-level wings will promote excellent instructional opportunities for a 21st-century middle school."
The current building will be razed in summer 2022. The school's agriculture shop, which barely overlaps with the new building site, has already been demolished.
Currently, Rustburg Middle School serves about 619 students, and the student population has remained largely consistent for the past several years. According to the Virginia Department of Education, enrollment has ranged between 609 students and 639 students for the past five years. Supervisors voted against a $1.3 million expansion to the project that would have increased the school's student capacity from 750 to 900.
Blair Construction unveiled its proposed middle school plan to Campbell County supervisors and school board members in September. The new school is slated to be ready for the 2022-2023 school year, and with final site work completed late in 2022.