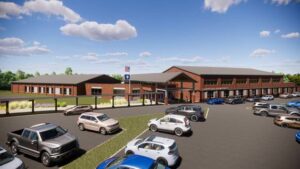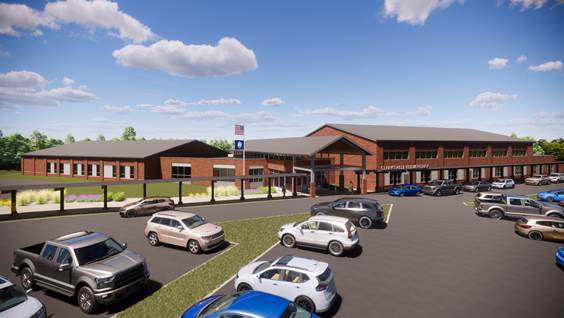 Mecklenburg County Public Schools has selected Gretna-based Blair Construction, Inc. to build the new Clarksville Elementary School, Blair Construction President Tim Clark and the Mecklenburg County School Board announced in early November. 
For the $29.5 million project, Blair will renovate and raze portions of the current school building — built in 1960 — and erect new structures on the existing site to construct a modern elementary school that will serve more than 400 students in Mecklenburg's public school district. The project will include construction of new classroom wings, a gymnasium, cafeteria, administrative offices, parking and vehicle access, as well as new building systems and equipment.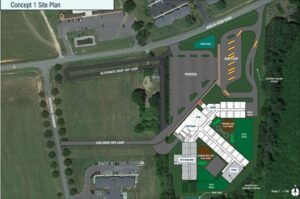 Procured through Virginia's Public-Private Education Facilities and Infrastructure Act (PPEA), the project will also include Grimm + Parker Architects and the Reynolds-Clark Development, Inc. engineering consulting firm. 
"We are grateful to Mecklenburg County Public Schools for their trust in Blair Construction to take on such an important and impactful project," said Clark. "We pride ourselves on building facilities that benefit entire communities, and no buildings have a greater influence on a community than schools. We are also excited to partner with Grimm + Parker and Reynolds-Clark, who share our values of quality and community."
Design work for the school will begin immediately with construction expected to start in August 2023 and complete in the spring of 2025.
The new Clarksville Elementary School will be the latest educational facility in Blair's lengthy portfolio. The 111-year-old construction firm has built public school buildings across the state, including Albemarle, Campbell, Franklin, Halifax, Henry and Pittsylvania counties and the cities of Danville and Lynchburg, among other localities. Blair Construction has also built facilities for numerous private and higher-education institutions, such as Averett University, Chatham Hall, Danville Community College, Hargrave Military Academy, the Institute for Advanced Learning and Research (IALR) and the Southern Virginia Higher Education Center (SVHEC), among others.