Strengthening a team that prides itself on regional expertise and relationship building, Gretna native Megan Hamlett joined Blair Construction, Inc. as human resources/project administrator in March 2023.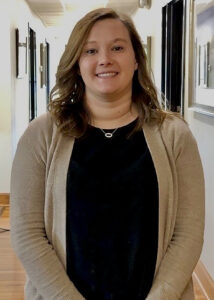 Born and raised in Gretna, home of Blair Construction, Hamlett graduated from nearby Faith Christian Academy in Hurt, Va., and earned her bachelor's degree from Liberty University where she studied business administration with an emphasis on project management.
"The role of human resources/project administrator is crucial to our team's success, and we are thrilled to have somebody like Megan in that seat," said Blair Construction President Tim Clark. "She has a natural talent for building relationships, and her proven people skills will strengthen the camaraderie and culture we have at Blair."
Hamlett's resume includes a number of customer service positions in the private and public sectors, including food services, Midway Self Storage, and the Virginia Department of Transportation (VDOT). She was most recently a receptionist at the Chatham VDOT, where she was in a public-facing role answering phones and handling citizen questions and concerns.
"Blair Construction started with one man's values, honesty, and work ethic. It continues to stand by those to this day," Hamlett said. "Blair is family oriented, not just in how the company accommodates each employee's family life, but in how all of its employees are like family to each other."