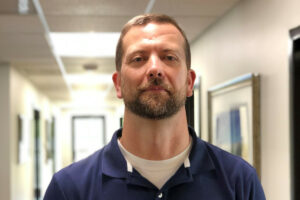 Erecting more than 600,000 square feet of steel every year takes careful planning, remarkable attention to detail and strong leadership. Thankfully for Blair Construction, Inc., Rick Sigmon specializes in all three.
As the building coordinator for Blair Holding's 22-year-old pre-engineered building firm, BMB Inc., Sigmon manages dozens of metal building projects each year. Since joining the company in June 2019, he has overseen many of those projects himself, with builds ranging from 1,600 square feet to more than 75,000 square feet.
Industry Expertise
"Rick has all the construction expertise you want or need in a building coordinator. With experience as a general construction manager, Rick can keep an entire team progressing toward what are often very lofty goals," said Blair Construction President Tim Clark. 
"He works with our clients to design and detail the buildings based on their individual needs. He manages the order process of the steel and insulation and the sub-contractors that come before and after the steel erection on the job site. Each of those duties requires a unique knowledge base, skillset and general people skills, and it's rare to find one person who is skilled in all of that. Rick certainly is, and we are fortunate to have a person of his caliber in a crucial leadership position on our team."
Originally from Rocky Mount, Va., Sigmon boasts nearly a decade of experience as a business owner and Virginia state licensed contractor. Before BMB, he specialized in custom home framing, siding and roofing. Now he puts that experience to use handling estimates and bids as well as coordinating and managing all phases of pre-engineered metal building processes for the company.
BMB Steel
Most of Blair's pre-engineered projects are fabricated by Nucor, for which BMB is an authorized dealer and erector. BMB's projects have contributed to a Blair Construction portfolio that includes more than 500 structures built since 2010. 
"Joining BMB and the Blair family was a wonderful opportunity to establish a career in a specialized, growing industry," Sigmon said. "I enjoy working for a team with a longstanding reputation for quality, community and simply doing things the right way."