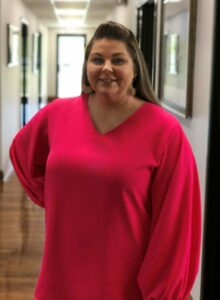 Adding to its roster of local professionals from Virginia and the Southeast, Blair Construction announced the hiring of Gretna native Melissa Hines as an administrative specialist. 
A graduate of Gretna High School, Hines joins Blair after spending nearly a decade in Virginia's health care industry where she was both a certified nursing assistant and a certified medical assistant. Most recently she assisted physicians and practitioners in facilities in Danville and Martinsville while also performing general office responsibilities and training new employees. 
At Blair, Hines handles administrative duties including customer service, payroll, accounts payable, shipping, mail distribution and a multitude of other tasks.
"Melissa has already been a fantastic addition to the Blair team," said Blair President Tim Clark. "Her prior experience in a high-pressure field like health care is evident in her attention to detail and solution-oriented mentality. She brings positivity and drive to the office every day, which is essential for a relationship-driven company like ours."
Hines earned her nursing assistant certificate from Virginia Western Community College in 2014 and also holds a certificate in child care from Danville Community College. She previously worked in nursing and medical assistant roles that included patient care and administrative responsibilities at Chatham Health and Rehabilitation Center, MedExpress Urgent Care in Danville and PATHS Community Medical Center in Martinsville. 
"I've learned that some of the best things God will do in my life won't be on my schedule," Hines said. "I was in the health care field and ready for a change when I saw the job opening and thought, 'Why not?' I just could not ask for a better job and better timing in my life. I'm so thrilled to be back home working at a company where I'm surrounded by great people every day."